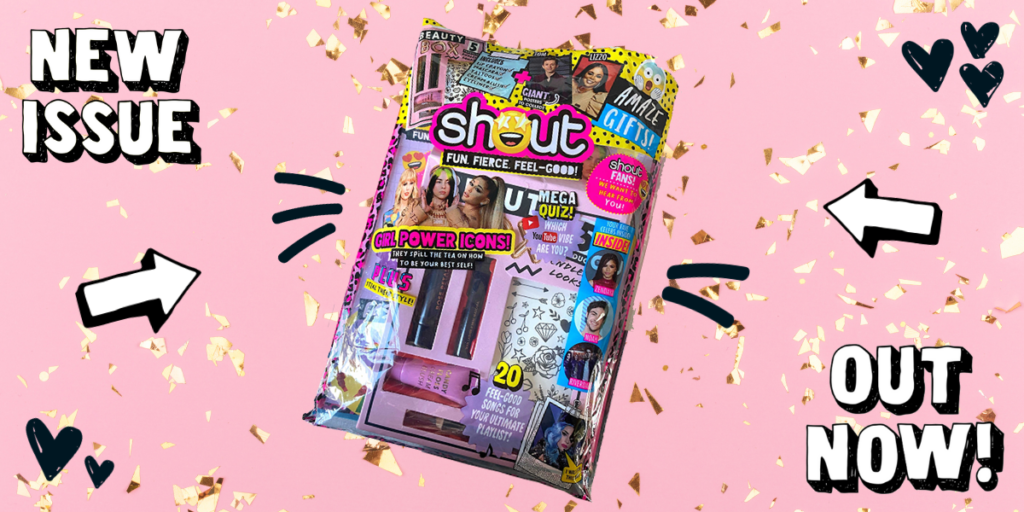 The brand new issue of Shout magazine is HERE! 💖✨
Full of amazing celeb stories, games, advice and quizzes, you'll have so much fun with our brand new edition of Shout magazine!
Here's a sneak peek of what you'll find inside the mag 🥰
Girl Power Icons – Learn how to be amazing like Ari, Billie and Taylor!💪
Celeb Pet Squad – find out which cutie belongs to which superstar! 🐶🐱
Reader Shout Out! – We hear what YOU have to say about school! 💕 👯‍♀️
Shout's Guide To Anxiety – how to deal when you're feeling stressed and low! 💞
Dream Job Decider – find out what you should do when you grow up! 👩🏻‍🎤👩🏾‍🔬👩🏿‍🏭
We're also giving away an amazing BEAUTY BOX which includes 5 FREE GIFTS! 🎁 💝
Rose Petals Lip Crayon💄
Max Lashes Mini Mascara 👁️👁️
Candy Floss Cream Blush 🌸
Soft And Smoky Eyeliner 😍
Temporary Tattoos 😱
We're sooooo excited to share the brand new mag with you!
Tell us what you think by DMing us on Insta or Twitter or emailing us at contact@shoutmag.co.uk!