We spoke to four top football players: Scotland forward Lisa Evans, German striker Eunice Beckmann, and Austrian internationals Sarah Zadrazil and Laura Feiersinger.
What advice would you give to Shout readers who'd like to or get into sport?
Sarah: I would say that football has given me so many opportunities and opened so many doors for me – every step of the way with all of the ups and downs has been totally worth it. Just go ahead and try it and see for themselves how amazing it can be!
Laura: They should find a sport you are passionate about. It is hard to keep things up and really enjoy things without passion.
Eunice: Take your time and work at being the best you can be.
Lisa: Absolutely go for it! Sport gives you so many opportunities! It's allowed me to meet so many amazing people and live in and visit so many amazing, cool places in the world.
Your #WePlayStrong campaign on YouTube has been amazing for showing girls about supporting each other. What other things did you want girls to learn from your videos?
Sarah: That we are just four normal girls who might even have the same hobbies as them! Hopefully they identify with us whilst also getting an insight into our daily life – the good and the tough times!
Laura: I wanted to show them what great experiences you have during your journey as a football player. You meet so many great and different people and get to see so many amazing places all over the world.
Eunice: I want to show girls the other side of being a professional football player – our life off the pitch as well as on.
Lisa:  I just wanted to show people the other side of our lives, not just the football part.
What are some stereotypes about girls that play football that you'd like to break?
Sarah: It's a great and growing sport for girls and women, and it's more than okay for young girls to play football.
Laura: That football is only for boys and that girls can´t play football – this is not true!
Eunice: That girls who play football only play football – no! We play football but have fun with our other interests at the same time.
Lisa: That girl football players are MANLY. We're definitely NOT. We love a good hairstyle and wearing makeup just as much as the next girl.
What do you enjoy doing in your spare time off the pitch?
Sarah: I love to go shopping and I like spending time with my teammates and friends. I also go to the movies a lot, but my favourite time is any time I get to spend with my family.
Laura: I like to do any kind of sports – I´m quite an active person. I love cross-country skiing in the winter. I also love going to the cinema.
Eunice: I love to travel and try out different kinds of sports like boxing, badminton, tennis. I like to go to the gym to take some time off from playing football every day.
Lisa: I love being outdoors! In Any form, if it's just going for a coffee or out for dinner, spending time with friends, or going to concerts.
Do you get on well with your teammates?
Sarah: Yes! My teammates are my friends and I love having every single one of them in my life.
Laura: Yes. I really enjoy spending time with them.
Eunice: Of course I do. I love them!
Lisa: Yes! At Arsenal we have a really close group and that's also the same in the national team. We spend so much time together you know what people need in terms of preparation for games and how they are in training. You get to know them on a personal level.
What's the best thing about being part of a team?
Sarah: I made my best friends through playing football, and it has given me the opportunity to meet so many amazing people – that's one of the great things about being part of a team.
Laura: Being able to share or celebrate every victory with people you really like. You work so hard for a certain goal and when you achieve that goal, it is always nicer to share the moments with others.
Eunice: A good team spirit can work miracles!
Lisa: Going through everything together! Everything is more fun if you're doing it with the people you love. Through the highs and the lows it's always easier having your team mates around you.
When did you start playing football?
Sarah: I started playing when I was 5 years old, but it's never too late!
Laura: I started playing football when I was 12 years old.
Eunice: I started playing football when I was in Kindergarten. I was about 4 years old. I started playing on a team when I was 6.
Lisa: When I was a young girl at primary school. I played for my first football team when I was 7.
Who inspires you?
Sarah: My brother has always inspired me since I was a little girl. He is an amazing person and I am so grateful to have him in my life.
Laura: When I was younger I was always a big fan of David Beckham. I am also always really impressed by Mikaela Shiffrin and Marcel Hirscher (alpine skiers), they have already achieved everything in their sport but are still are on top of their game every winter. That´s very impressive to me.
Eunice: My mum!
Lisa: I think my mum does the most. Her and my dad have always been there for me, in terms of my football development and supporting me throughout my career! It's always inspiring to want to do better for all of my family.
Your "Press Play" vlogs are great, we loved getting an insight into what you do! What do you like best about vlogging?
Sarah: I think it's really great that they can see what our lives are like as professional footballers and what a privilege it is to be able to do what we love most.
Laura: I like to give people an insight into the life of a professional football player, what we get up to and where football takes us.
Eunice: The great feedback you get from fans, family and friends. The support is amazing!
Lisa: I think just giving people an insight into my life. Not just on the pitch but also off it. It's such a privilege to be a professional footballer and hopefully I've shown people that it's great!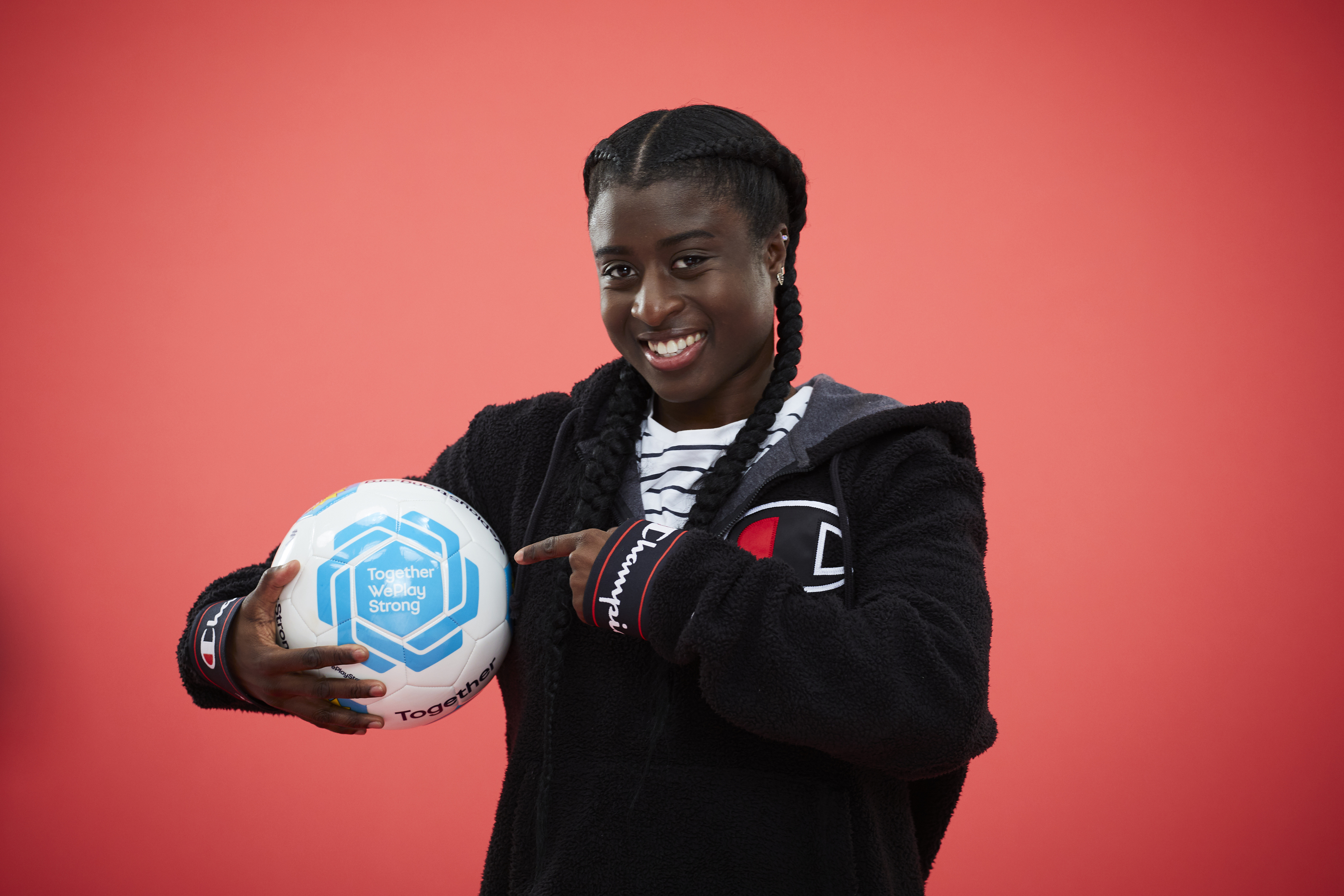 Our #ShoutLoud campaign is all about speaking up about your achievements! What achievements are you most proud of, in football or otherwise?
Sarah: I think my biggest achievement in football was making it to the semi-finals of the last European championship with Austria, I will never forget what an amazing experience it was.
Laura: I will always remember my first big victory with my former club, Bayern Munich. We won the DFB-Pokal Cup in 2012 and that was a very special moment for me.
Eunice: My biggest achievements continue to be winning trophies in football, for sure.
Lisa: I think winning the German Bundesliga with FC Bayern Munich has been my biggest achievement so far in my career. I think also representing Scotland at a major tournament (last summer at the Euros) was a massive achievement and something I'm very proud of.
If you weren't a footballer, what would you be doing?
Sarah: I think I would be working as a kindergarten teacher and I still plan on doing that after I am done playing football.
Laura: I would probably be a skier or a biathlete
Eunice: I would probably be a rock star!
Lisa: I honestly have no idea!!
What keeps you motivated?
Sarah: All the amazing experiences I continue to have because of the sport I love.
Laura: My love for the game and sharing precious moments with my teammates.
Eunice: My ego, I just can't give up on myself.
Lisa: I think my team mates and family really. They motivate me to be the best I can be week in, week out.
Playing football must take you to some interesting places! Where is the most exciting place you've visited to play or train?
Sarah: I played for the Portland Thorns in the 2016 pre-season and I loved being there. It was such a great soccer city and club, and I am really glad I got to see that!
Laura: I really liked Tel Aviv. I didn´t know that it was so beautiful. We travel a lot but sometimes it's hard for us to get to see all the places or cities because we don´t have a lot of time outside of training.
Eunice: I would have to say playing in America, when I was with Boston Breakers.
Lisa: Wow! Really good question. We've been to some amazing places; Brazil, and pretty much all of Europe! I think my favourite trip was with the national team – we went to America (Florida and Nashville) and they were both incredible! It was such a great trip and we had the best time ever!
Did you ever think you'd be where you are today?
Sarah: Not really, I always just try to make the best out of every moment and not to worry about the future too much. I am really glad it all worked out the way it did.
Laura: Not really. I was always very ambitious, but you never know what´s going to happen or where you'll end up.
Eunice: Never
Lisa: Absolutely not! I always wanted to be a professional footballer, but obviously back then there wasn't the same opportunity to do so. I pretty much thought I'd be playing with the men in the men's league! I'm so lucky and grateful to be doing what I'm doing!