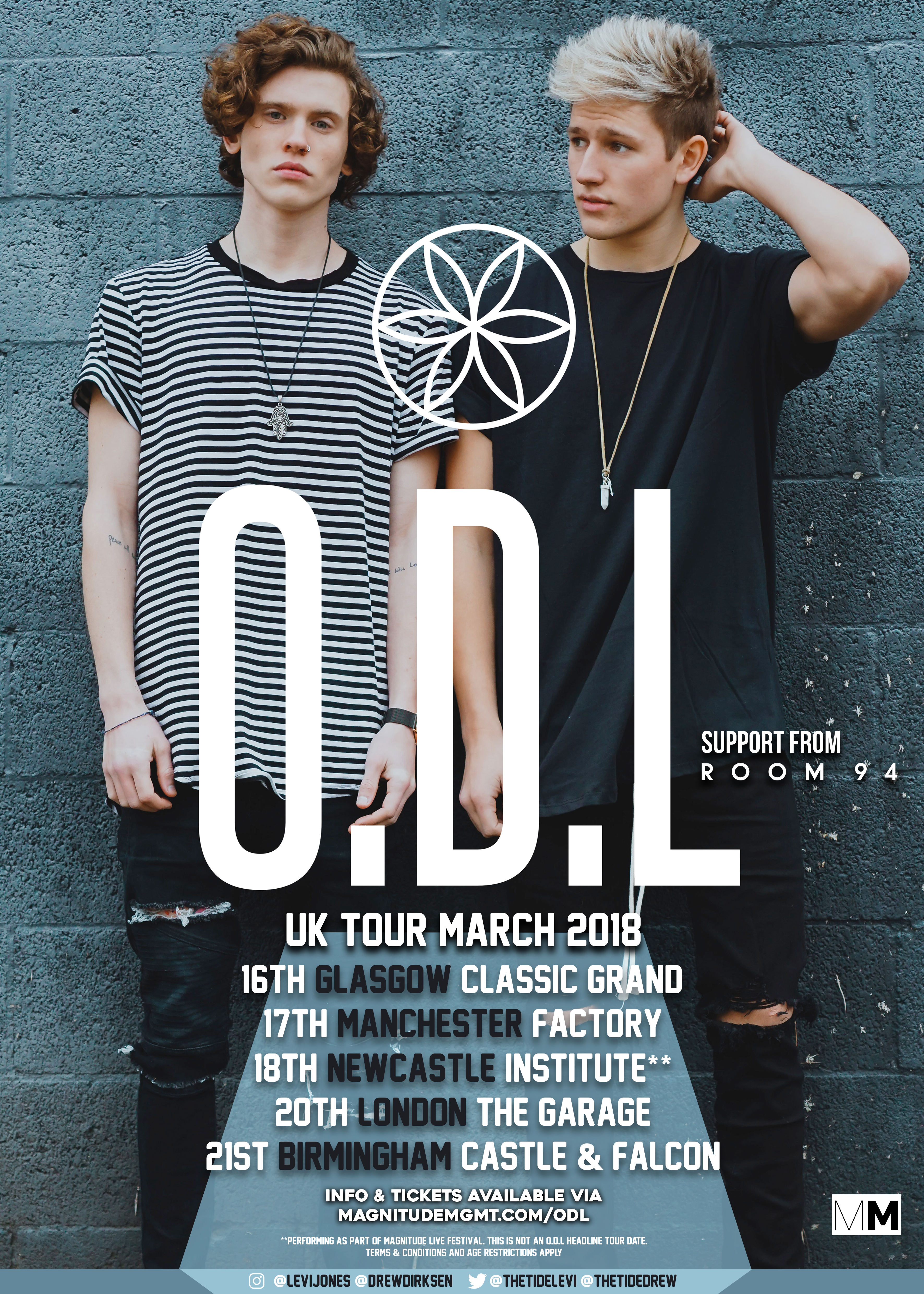 O.D.L aka Drew Dirksen and Levi Jones have been BUSY on their first ever UK tour. We went along to their Glasgow tour date to meet them and have a little chat! We chilled out in their tour van and, not gunna lie, fan-girled a little… OK, a lot. Read their full interview below!
1. Where did the idea of O.D.L come from? What made you come together?
Drew: We always wanted to work together on stuff. 
Levi: We were just best friends and we just wanted to do our own music and control what we do and sing and we were just like, "Yeah why not! Let's do it!"
Drew: "Let's do it man!"
Levi: We had our YouTube channel, Drew and Levi, so we thought, why not just make music too? So we started writing songs and just thought, "Huh, well, I guess we'll start a band!" And then, the name O.D.L, that's the part that took forever!
Drew: We spent MONTHS thinking of a name and then we were in my kitchen, and my dad said, "You guys are just so dysfunctional." We were trying to find initials, and dysfunctional sounded great…
Levi: And we thought, you know what, we are dysfunctional! So it was Our Dysfunctional Lives — it's funny because everyone thinks its like Offical Drew and Levi.
2. How do you get yourself hyped and ready before a show?
Drew: My ritual is chug a Red Bull before the show, definitely blast loud music!
Levi: Blast some music, acting crazy…
3. How do you stay confident?
Levi: Wear a full face of make-up. *both laugh*
Drew: When you work so hard and you start seeing results it just drives you to do more.
4. Who are your musical idols?
Drew: Definitely All Time Low, we got to meet them last night and hang out with them.
Levi: What made me want to start playing guitar was Ed Sheeran. That's how I learnt guitar, I listened to his first album and learned every one of his albums.
5. If you could sum up O.D.L's sound in three words, what would they be?
Drew: Energetic, EDM, pop.
6. How did you get into vlogging and YouTube?
Levi: For a while Drew was just constantly watching vlogs so I started watching them too. We just thought it was cool how people were showing their daily lives and I thought we were kind of funny and we could probably do that!
7. What are your favourite kind of videos to film?
Drew: I love extreme stuff, Levi hates extreme stuff. I love like heights and extreme — but Levi likes these haunted places…
Levi: Yeah that's my favourite thing. I make him go to like abandoned places, it's crazy.
8. What's your favourite things about each other?
Levi: Oh, gosh I hate him. *laughs* I would say he's really good at social media and that's the part that I lack in, and social media is vital. And personally, I think he's funny, we have the same sense of humour.
Drew: This man can kill it with producing. He's been doing it like non-stop for the last 6 months while we've been making our music. And you got great hair, bro.
Levi: Thanks, man!
9. What are your goals for O.D.L?
Levi: To be able to just make a living off music, honestly, to be able to just keep doing what we love and support my family in the future.
Drew: Also when your music touches people and you get the feedback off them, that's just the biggest thing, reaching out to thousands of people. You can actually change people's lives with music and that's a big part of it.
10. What's one of your favourite songs to play?
Drew: I love playing 'Weightless' by All Time Low on the guitar.
Levi: When it's just me and my guitar, my all time favourite is 'A Team' by Ed Sheeran.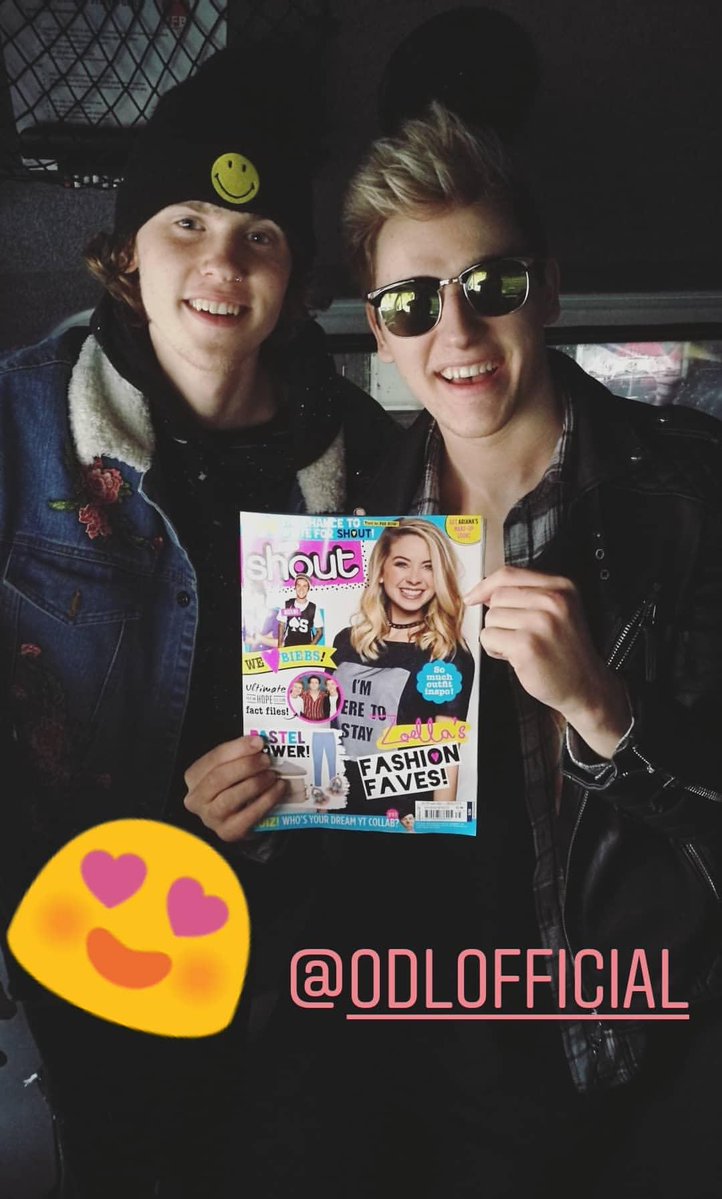 QUICK FIRE ROUND!??
Favourite food?
Drew: Burritos.
Levi: He knew instantly! He wants one right now. I'd say pickles. Every year for Christmas my grandma would get me a jar of pickles, I'd eat it in a day.
Favourite emoji?
Levi: The one that's like… *shrugs*
Drew: I don't use emojis. The whale.
Dream music collab?
Drew: Katy Perry.
Levi: I'd love to write a song with Ed Sheeran.
To see O.D.L 

answer YOUR fan questions, pick up a copy of the BRAND NEW Shout mag!