We caught up with Niki and Sammy, speaking at The Sims™ 4 Cats and Dogs launch!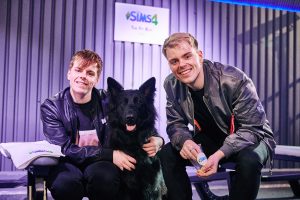 You are involved with the Sims 4 Cat's and Dog's launch, will you handle being put through your paces?
Sammy: I want to accommodate my pet, so I think I'll take it slowly and see how he does!
If you could be any animal, what would you be?
Nikki: A bird!
Sammy: A whale- because they can eat whatever they like and how much of it they like and I think they live quite a long time. I have thought about this.
What was the name of your first pet?
Nikki: We had a German Shepard called Skye.
What was your dream job growing up?
Nikki: I wanted to be a zookeeper, I really love animals.
Sammy: It sounds lame but, I wanted to be a head teacher — a cool head teacher.
Did you always want to work together?
Nikki: Well, when we were growing up, YouTube wasn't really a thing. But, we are a good double act and we have that chemistry that twins, or siblings have.
What's the biggest difference between you?
Nikki: I like to get straight to the point, like if I am sending an email I just get straight to the point. Sammy writes an essay!
Who would your dream collab be with?
Nikki: I'm going celebrity and I'd say, Adele. I just really want to be friends with her. And BTS!
Sammy: Ant and Dec, or Grace Helbig!
What advice would you give to readers who want to start vlogging?
Nikki: Don't copy other people, do something you think is fun and that you are passionate about.
Sammy: Don't worry about getting all the equipment, that puts people off, just use your camera phone or laptop, those cameras are really good now!
How do you help yourself in a situation where you feel really anxious and self-conscious?
Sammy: I think we are both very self-conscious people and think most YouTubers and people like that are, even the biggest celebrities have their hang-ups. It's about accepting yours and managing them somehow!
What traits do you look for in a friend?
Sammy: I look for someone that's kind and their personality is their most important feature. Someone you can have good energy with and also someone you know you can rely on and they can rely on you.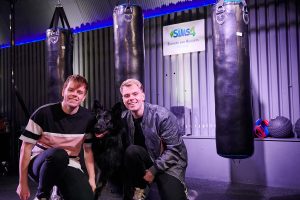 If you could have any super power, what super power would it be and why?
Sammy: Time travel, not like epic time travel, like a little bit of time travel — maybe go back ten seconds or something.
Nikki: That's pointless!
Sammy: Nah, it's good.
Nikki: I would have flight. I think everyone says that. But how cool would it be to fly then also it would be quite scary — what if it cut-out? But, yeah flight let's go with that.
What are you going to have for dinner tonight?
Nikki: I am lucky if I plan ahead five minutes, let alone what I am having tonight. But, I have been watching a lot of Nigella and I really want to try a Quorn version of a recipe she cooked last night.
And finally, what's the last thing you binge-watched?
Nikki: Stranger Things 2, also I am really into anime but I thing Stranger Things is the cool answer so we'll go with that.
Sammy: I'm gonna agree cause we watched it together!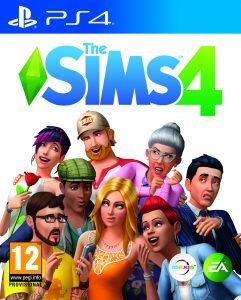 Niki and Sammy were speaking at The Sims™ 4 Cats and
Dogs fitness class to celebrate the release of The Sims™ 4 on
console and The Sims 4™ Cats and Dogs expansion pack
which is OUT NOW on PC. To pick-
up your copy of the game on console or PC, head to TheSims.com #TheSims4!
Check out the rest of our EXCLUSIVE interview in the latest issue of Shout!