To mark the launch of Andi Mack, coming to Disney Channel and DisneyLife on September 8, we're bringing you a sneak peek of our interview with the main star, Peyton Elizabeth Lee! Catch all the deets in our next issue, on sale September 20!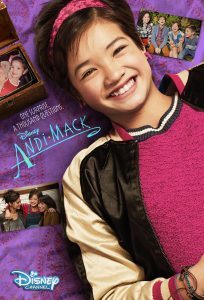 How similar are you to Andi, do you think?
I would say I'm really similar in many ways. We're both 13, which is a big turning point. She's sort of figuring out where she sits in the world, what decisions she wants to make and how she wants to live. I think that is something I can relate to!
How does the show balance the serious stuff with the LOLs?
I think that it's cool that the show has different levels. Of course, there are those dramatic scenes, but there is also all the fun scenes. For every emotional scene, there are at least a couple of light-hearted and energetic ones!
How do Andi's friends — Cyrus and Buffy — help her with her revelation about her sister?

I don't even know how to describe it! They're just always there for her and they're her best friends, so she tells them everything and they tell her everything. I think it's really important that everyone has that friend group to be with, talk to, and work things out with.
What's your favourite craft that Andi makes on the show?
I would say her duct tape Converse are my favourite thing ever! I just remember the first time I saw them, I was like, "Oh my gosh! They're so cool!" Every time we work in the 'Andi shack', I just love everything that's in there!
What's your favourite inspirational quote?

Without darkness, there aren't any stars. I think that's one of my favourite quotes because it really reminds me that if nothing bad ever happens, then the good wouldn't be as good as it is. So, whenever something doesn't go your way or you're not happy about anything, just know that something good is coming!