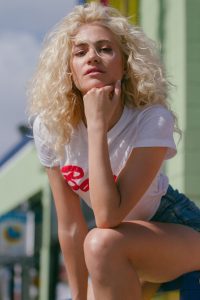 What's your daily beauty routine?
I cleanse with Lindor Meredith Cleanser — I have the whole range!  Then I put on my Chanel primer, which is a brightening primer with SPF in it. When you want to put highlighter on top of your foundation, this just brings it out even more! Then I put on my foundation and contouring products. I love a MAC brown cream-based contour and I blend it with my MaxFactor pink cream blusher, then go to town with my MAC Pearl highlighter! For a day look I either wear my Lily Lashes from the Blooming Lash range or the Ritzy Lashes. I just put MAC eyeliner on top, brush my brows up with a MAC serum, add a little bit of my Chanel powder on my forehead and T-zone — and I'm good to go!
Top skincare tip?
If I ever have a breakout, I just put Sudocreme on and it's a really good way of cheating it because it won't dry the skin out — it moisturises it and gets rid of the problem!
What is your number one haircare tip?
Instead of using a conditioner, try using a mask. It doesn't take any longer than your normal haircare routine, and a mask is much richer for your hair. Especially for someone like me, who dyes their hair and tries out so many different colours all the time!
What are your favourite looks this summer?
I love imPRESS nails and they're perfect for the summer, because there are loads of different colours and styles that will go with any outfit! There are really fun prints and they're just so easy to use. Fashion-wise, I'm getting into wearing swimsuits — not just at the pool, wearing swimsuits in normal day life with jeans. I think it's fun!
And what are your top tips for putting your lashes on?
My top tip is to put your glue on the band and wait! You have to let the glue dry a little bit and become tacky. Then when you put it on, it does stay put!
Which one product makes you feel super glam?
I think it's lashes, because they really do finish off the whole look. They make your eyes pop and open them up more!
What makes you feel sassy when you're having a bad day?
I love going to the spa — it gives you a bit of me time where you can just chill and get back to normal again.
What advice would you give to Shout readers if they are struggling with their confidence?
I think if you're feeling down,it's easy to get bogged down with things that stress you out. Try to focus on the positives and make a list of things you're grateful for. You just need to collect the little things — it's so easy to forget them, but the little things can bring so much happiness!
What are your music plans for this year?
Baby is out now with Anton and I'll have my first single coming out after summer, so that's exciting!
Biggest beauty secrets?
Drink loads of water! You have to stay hydrated. It's so easy to forget, but it makes a big difference to your skin, your hair — it even makes a big difference to my singing voice!
Pixie is the ambassador for KISS and imPRESS Nails. Check out the full range here.
Grab the latest issue of Shout to find out how YOU could win one of five sets!