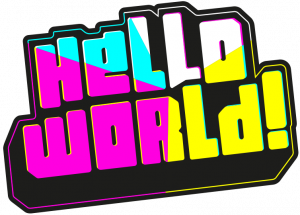 HelloWorld is a brand new event coming Genting Arena in Birmingham on Saturday 28 & Sunday 29 October 2017, with tickets on sale NOW via helloworldlive.com! From the creatives behind the MTV VMAs, this world-first event brings together the biggest digital stars on the planet including Caspar Lee, Jim Chapman, Joe Sugg, Louise Pentland, Marcus Butler, KSI, PointlessBlog, Rose & Rosie and Zoella – all together under one roof for the very first time in an immersive 4-and-a-half hour show!

To get you super excited, we got the lowdown from the creators of the event on why you CAN'T miss it!
MEET THE CREATORS!
The VIP Package may have sold out on the first day, but standing ticket holders are still going to spend the first part of HelloWorld on Main Street — where they can chill, play games, create with, buy from, and dance with the creators and artists until the sun sets! Then the night-time part of the show begins with surprises around every corner — so keep your camera ready and always answer a ringing phone box (shhhh, don't tell anyone we told you that!).
DITCH THE FOMO!
HelloWorld isn't going to be like anything else you've ever been to! Somewhere you don't just meet your favourite online creators and artists, you're hanging out in their incredible world, too!
EXPLORE!
If you follow HelloWorld on Twitter you may have heard of Main Street, but you probably don't know exactly how impressive it's going to be, right? So, picture the scene — you enter the Genting Arena and stretching ahead of you is an indoor world. A giant sun rises overhead and slowly wakes up our world, and HelloWorld residents bring the scene to life!
EPIC LINE UP!
Zoella, Alfie Deyes, Joe Sugg, Caspar Lee, Rose and Rosie, Jim Chapman, Louise Pentland, KSI, and Marcus Butler are all confirmed so far, with more names to be confirmed in the coming weeks!
GIANT ARCADE!
Wander down Main Street to the Giant Arcade Stage – this thing is huge! It's going to see some fiercely competitive battles between you and the creators, as well as host parts of our evening show. You're gonna need to see this thing to believe it!
YOUTUBE CLASS!
Some of our biggest creators are going to be hosting sessions full of the kind of helpful tips for starting on YouTube!
HAVE IT YOUR WAY!
The most important thing about HelloWorld is that you take it at your pace. We made this for you, so don't think that you're going to be shoved from one queue to another, then jammed into a sweaty mosh pit and spat out onto the street at the end of the night. We've got chill-out areas, an indoor picnic area, and loads of spaces for quiet reflection! It's all here for YOU!
Tickets are available to buy from:
https://www.theticketfactory.com/default/online/tickets/hello-world/
http://helloworld.seetickets.com/tour/hello-world
www.helloworldlive.com
Get all the latest info here!
Twitter: @hello_worldlive
Instagram: @helloworldlive
Facebook: helloworldlive
YouTube:  helloworldlive