When we were invited to join Amazing Arabella and her friends at a New Look 915 party, we jumped at the chance!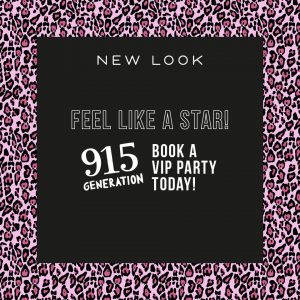 If you didn't already know — you can now host PARTIES at your all time fave high street shop. Amazing! The parties are the full VIP experience, packed with games, challenges and awesome goodie bags. What's not to love?!
We spoke to Arabella a little about her day…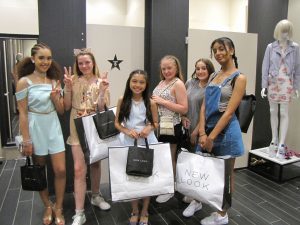 What is the most exciting part of having a party in one of your fave shops?
OMG the clothes, I love them! I also liked seeing all of the new styles that are out. It's so different — who would've thought you can have a party in your favourite shop!
What's your favourite New Look piece?
I love all my logo tops from New Look — my favourite is the one that says 'Join my girl squad'!
Why do you love New Look?
They're so trendy and cool, and always have a massive range to choose from. I also love the fact that they have their own teen range for all of the teen fashionistas out there!
You have £30 to spend, what do you buy?
A jumpsuit and beautiful festival jewellery — oh, and some bohemian feathers for my hair!
What is your perfect feel-good outfit?
I like getting dressed up and looking trendy and glitzy, but I also love to get comfortable and throwing on a onesie. I like to feel good in whatever outfit I wear.
Which trends are you loving right now?
Holiday prints and girl gang slogans!
If you could design your own school uniform form New Look, what would it be and why?
I love the St Trinian's films! The girls are so fashionable and add their own style to their uniform, so it would be inspired by them.
What's the ULTIMATE party food?
Ice cream, jelly and pizza!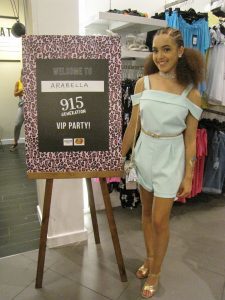 We had so much fun with Arabella and her friends. A 915 party is definitely the best way to spend a birthday! Each party lasts around 90 minutes, and involves everything from a mannequin challenge, your very own catwalk show, a jelly bean flavour game and much more! Each guest receives an amazing goodie bag which includes a 15% off voucher, and the birthday guest also gets some extra treats!
Tickets cost £15/20 euro per person, with 4-15 guests. Parties can be booked directly in participating stores.