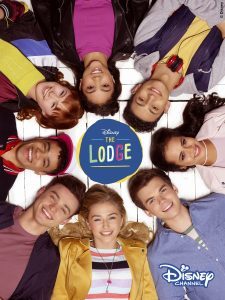 We sat down with the cast of The Lodge to get all the goss from the set! Catch Season two on Disney NOW!
What's in store for Noah and Kaylee this season?
Jayden: Well as you know, Kaylee actually left for music school at the end of season one and I don't want to give too much away, but I can promise the audience a lot of cute and amazing 'Naylee' moments in season two!
Mia, what excited you most about joining the cast on The Lodge?
Bethan: Me!
Mia: Err Thomas…joking! I was actually quite scared at first, because I knew how successful it was. But these guys made it good for me, so these guys are my favourite part!
Cast: Awww, we love you!
How long do rehearsals take before the final shoot?
Thomas: We have a lot of dance rehearsals, so we spend a couple of weeks in London doing that. We also have vocal coaching and we're in the recording studio, so it's quite full on at the start. And then for those of us that do specialist activities — mountain biking, BMX'ing, rock climbing, kayaking — we rehearse and do training for a couple of months before filming.
Jayden: There's always a few weeks of going through scripts and going over dances in specific locations, too. There are dance numbers throughout the whole series, so we rehearse right up until the end of filming!
Which character has to deal with the most drama in Season 2?
Mia: I'd say Ben! He's involved in every single aspect of the love triangle with Sean and Skye…
How do you keep each other amused on set?
Bethan: Honestly, every single scene is so much fun because we're all so close.
Mia: Some of the funniest bits are the outtakes!
Thomas:  A really terrible, unprofessional thing that we do is try to put people off when they laugh during a scene…
Mia: I've done scenes where I just can't look at the person that's on camera, so I'm just staring at the floor and they're trying to act to the side of my head!
What would be your dream storyline for your character?
Bethan: I would dream that Danielle goes horse riding!
Jayden: I would love for Noah to become a global superstar DJ.
Mia: I can see Alex being Prime Minister!
Thomas: I'd love for Sean to be a professional mountain-biker!
Will Skye FINALLY choose her dream boy?
Bethan: She does pick someone!
Thomas: In true Skye fashion, she's got 15 episodes of drama to film.
Bethan: So…does she keep the same guy? Who knows!
Sum this season up in three words!
Thomas: Energetic!
Bethan: Unexpected!
Jayden: Fun!