We had a chat with our fave band EVER about all the important things in life… Whatsapp, self-confidence, and a cheeky Nandos ??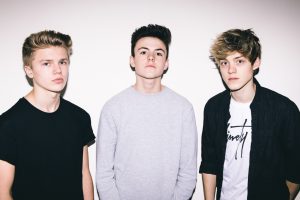 ❤️Instagram, Twitter or Snapchat?
Reece: Snapchat because it's the one I use the most!
Blake: Instagram!
George: Instagram!
❤️What's your favourite song of 2017?
R: I really like Zedd feat. Alessia Cara – Stay
B: Harry Styles – Sign Of The Times is really good!
G: Ed Sheeran – Shape of You
❤️Fave app…
R: Whatsapp — I use it to chat to my parents and I've got a group chat called Parental Guidance!
B: Snapsees — it's like a photo-editing app because I like taking pictures.
G: Mine is Deliveroo because I like food!
❤️Your perfect Sunday?
R: Sat in my living room with a Pot Noodle watching WWE!
B: Going to my grandma's house with all my family and having a nice roast dinner!
G: Mine would be waking up in the afternoon, watching a few films and just eating!
❤️Who's your dream collab?
R: Ed Sheeran
B: Bruno Mars
G: Ariana Grande
❤️Where would you say your happy place is?
All three: ON A STAGE!
❤️Perfect first date?
R: A cheeky Nandos!
B: I'd probably take them to Starbucks and just see how it went! If it goes well, then we could go to the cinema. You can't go straight in and have an awkward meal!
G: I'd go chill at home and get a Deliveroo! Or sky-diving…
❤️What's one piece of advice you'd give to Shout readers about self-confidence?
R: Be yourself, do what you believe in and you'll go far!
B: I think you should try and be confident and always do what you want to do — no matter what anyone says. Whatever your dream is, just go for it!
G: Believe in yourself!
❤️Are you excited for the Vamps tour?
R: Yes we're all VERY excited!
B: We're playing some new songs on the Vamps tour.
G: It's the biggest set we've ever played, so it's going to be very exciting!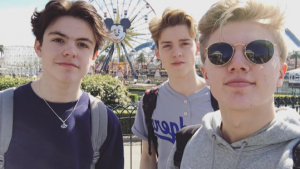 New Hope Club are performing across the UK with The Vamps on their world tour. Going to see them? Tweet us @shoutmag!
Images: Thomas Hole, Instagram/newhopeclub