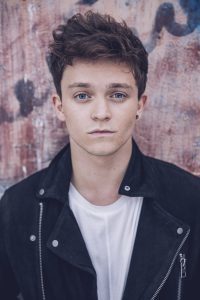 It's Connor's birthday, so we're celebrating by sharing our EXCLUSIVE interview with him (We know… now it feels like YOUR birthday, right?)!
If that's not enough, scroll down for a chance to meet the band… YES SRSLY.
Hey Con! Who's more likely to…
Date a fan?
If they're cool and like our music then it could really be any of us!
Crack up in a serious situation?
Maybe me — I'm not great at keeping a straight face, I just laugh! If things ever get serious we all just giggle.
Make things awkward?
I don't think things could be awkward in the band because we're all so close, but if I had to say someone probably Tris!
Lose it over a cute animal?
James, he loves his animals!
Be late for something?
Brad!
Who's the bossiest in the band?
No one is bossy! We're all really chilled out.
If you could only ever use one social media platform, what would you choose?
I like snapchat, my fave filter is the rainbow sick selfie!
When was the last time you laughed until your sides hurt and what was it about?
On TV when my guitar pack fell and I just carried on playing! I wasn't linked up to the speakers and the pack was swinging around everywhere, hitting cameramen and knocking stuff over. I'm the worst for being clumsy!
Describe your dream girl…
Someone that doesn't take themselves too seriously, that's funny, and someone that I can laugh with!
WIN! WIN! WIN! WIN! 
We're making the ultimate fangirl wish come true for one of our lucky readers with three tickets to see The Vamps live on their world tour at Manchester Arena on Sat 6 May! PLUS you'll get to meet them!
Look out for this page in the magazine to find out how to enter… Good luck!
See website for full T&Cs. Winner will be chosen by April 20 2017, and contacted via telephone and email by a member of the Shout team.