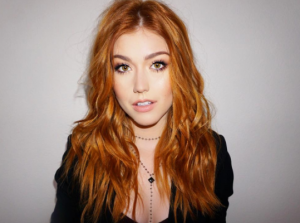 Season two has begun and we couldn't be more excited — find out what's in store for your fave new show!
What has the reaction from the fans been like?
It has been incredible and it means the world to us! We feel a huge responsibility to the fans because they all love the books so much so we want nothing more than to do justice to the stories.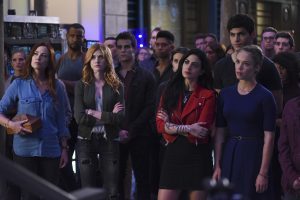 Have you always been a fan of the books?
Yeah! I'd heard of them and then when I got cast I read all six books and fell in love with the series very quickly. It's so exciting to help bring it to life!
How does it feel getting to play Clary?
I have to pinch myself every day! It's amazing to play her because she's young, flawed and still learning so much which means I get to grow with the character.
Are you anything like Clary?
I think so, I feel like I'm more like her than any other character I've ever played and I love that. She's got fire, spunk, she's really passionate and smart, dives head first into any situation and will do anything for the people she loves, which is pretty similar to who I am.
Some of the scenes are super-intense, do you ever get scared on set?
Yes, because the demons this season are more horrific than they were last season so I've definitely had a quite a few nightmares!
Have you had any embarrassing moments while filming?
Every. Single. Day! I'm a bit clumsy and we work such crazy hours that it's hard not to get tired and fall down a lot!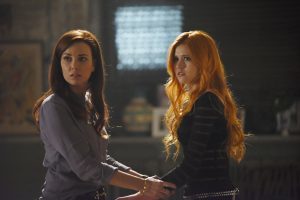 Who's your best friend on the set?
It's so hard to say because we've become a really tight family and I feel like I've gained five big brothers and a sister! It's probably Alberto, who plays Simon, because our characters are best friends on the show so we've grown really close!
The Jase sibling reveal was MAJOR, how did you feel when you knew you were going to have to act that out?
I knew it was coming from reading the books, hard scenes like that push you emotionally which can be scary. That story develops a lot more in season two so stay tuned!
Which couple do you ship on the show?
I'm a huge Malec shipper, of course! People always ask me to choose between Clase and Climon but I can never choose. This story also develops more this season!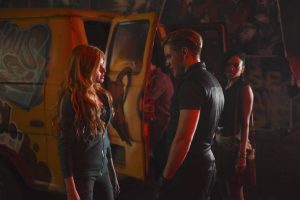 Tell us about your craziest fan experience?
We were at Comic Con in Brazil recently and we didn't expect the amount of people to show up for us that did — it blew us away and none of us quite knew how to handle it!
Fans of the books want to know… did you have to film THAT scene in the fairy court with Jase?
We haven't done that yet but that's all I can say (laughs)!
What can you tell us about season 2?
It takes a real turn from season one and focuses more on the relationships which get pushed to places you don't see in the books. And we've added a few exciting and drastic twists that will keep everyone on the edge of their seats!
Catch season two of Shadowhunters on Netflix now!
Credit: Instagram/shadowhuntertv, Instagram/kitkatsmeow, Netflix, Freeform/John Medland