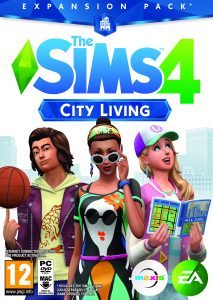 To kick off the release of The Sims 4 City Living, we got to chat with the hilare Joshua Pieters about what Sims Josh would be like… and the worst challenge he's ever done!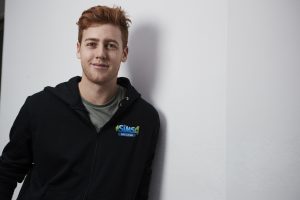 Hey Josh! If you were a sim what would your five main personality traits be?
Caring, humorous, empathetic, sporty and happy!
What sticks out to you as the worst challenge you've ever done?
The sleeping one just kills you, your body feels so strange. It's literally the hardest thing ever, but it's also my favourite!
Would you film a massive Sims 4 playing marathon with no sleep?
That's not a bad idea! The hard thing about a no sleeping challenge is that you have to keep people entertained as well as staying awake, so I could take up a good chunk of time just playing The Sims!
What's new in the Sims 4 City Living Expansion Pack?
Well I'd love to try out basketball in real life because I'm so tall, and you can now play it on The Sims 4 expansion pack!
3 words to describe your channel — GO!
Daring, original and funny!
Conor, Caspar, Oli. Marry, move in or divorce?
Move in with Conor cos I have lived with him for a year, marry Caspar and I would divorce Oli — he's not going to be happy with me!
Rate your squad from the most responsible to the least responsible…
Oli, Me, Caspar, Joe, Mikey, Conor then Jack.
What's the nicest thing one of your mates has done for you?
When I was starting out on YouTube last year, Oli had old filming equipment he wasn't using and I was going to buy it from him, but he just gave it to me as a Christmas present! That kind of thing is really expensive, so that was really nice!
Who's the biggest poser?
The posing award is between Jack or Joe, for sure!
Invent a word and tell us what it means…
Cunnythinkover – when you can't think of a word!
What are you most looking forward to in 2017?
Going away with my friends, we're so lucky to be able to travel together.
How does it feel to have so many subscribers?
It feels surreal, you have to keep reminding yourself this is happening. I'm so thankful but it's not about the numbers for me. Numbers won't make you happy, and I think it's important to remember that!
You could WIN The Sims 4 City Living and The Sims 4 City Living Expansion Pack – click here!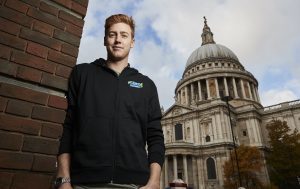 Josh Pieters was filming a new vlog to celebrate the release of The Sims 4 City Living expansion pack. Check out Josh exploring his own city of London below!